Viva Colombia!
Cartagena, Colombia
Coffee and cocaine. Those were the two things I knew about Colombia before my arrival. And amazingly enough, I learned about each (coffee details to follow in Salento). As far as cocaine is concerned, five grams of the best stuff costs only $100 and is very easy to obtain (we were warned not to buy it off the street though).
It had been over a year since my last trip and I was getting itchy travel feet. Colombia offered my first experience in South America, along with a cheap flight and sunny weather. The perfect storm for an amazing adventure!
After a rough start of delayed flights and missed connections, I was forced to spend the night in Atlanta. Thirty-six hours later, I arrived in Cartagena, hungry as ever. First off, I dropped my luggage at El Arsenal Hostel Boutique and then ran out for my first meal. Fresh mango juice and ceviche couldn't reach my table fast enough.
Day 1: Morning | Drink Colombian Coffee, Marvel at Street Art & Explore Fortificaciones de Cartagena de Indias
Good morning, Cartagena!
After a good night's rest, I woke ready to take on the city. Up first was Colombian coffee. When I asked where I could get a cup, I was told Juan Valdez, "It's just like your Starbuck's but better." Too bad I'm not much of a coffee drinker but I was pleased with black tea, milk, espresso and sugar (my version of a dirty chai latte).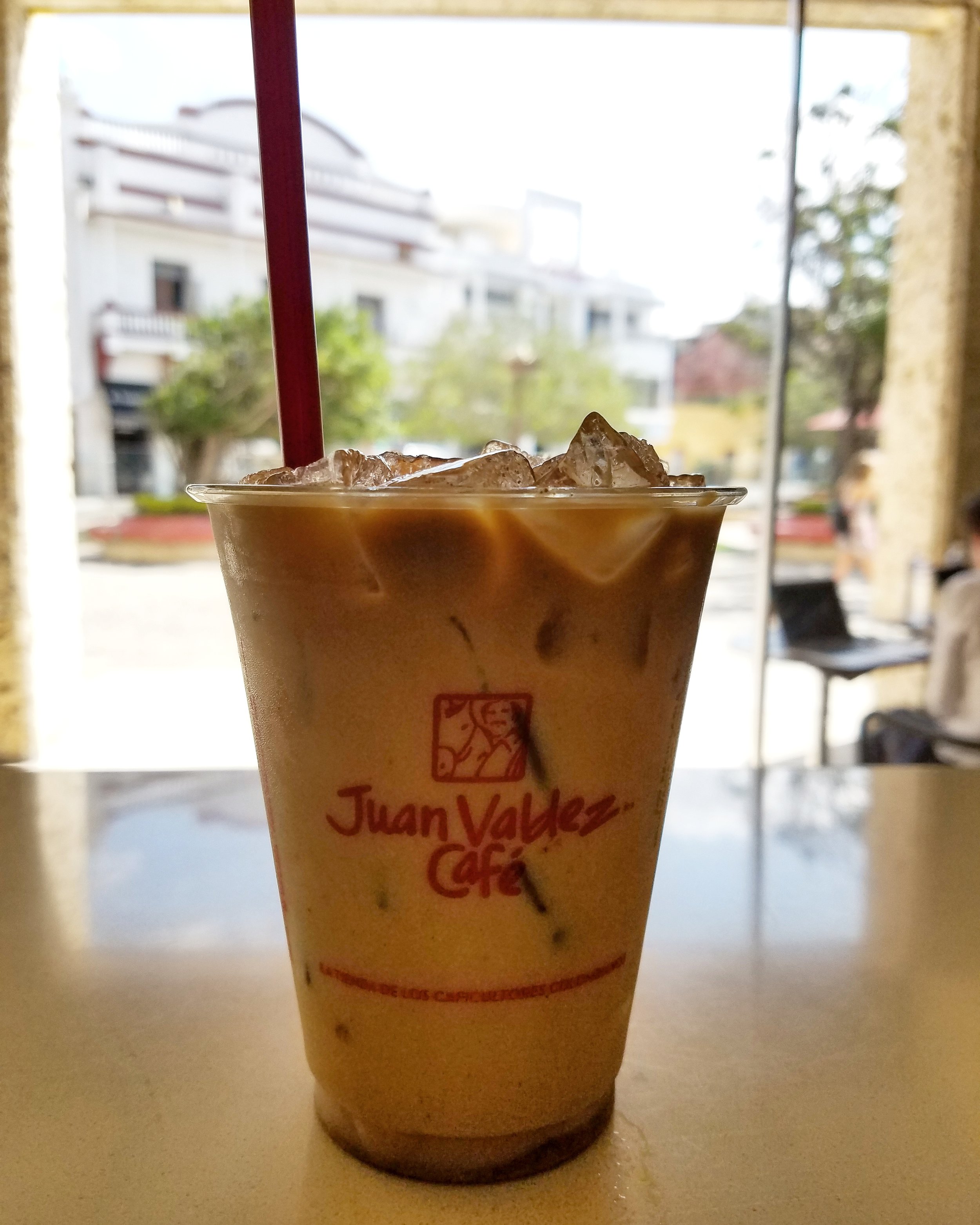 As always, my plan was to get a feel for the city by foot. I took off from the hostel toward the castle, Fortificaciones de Cartagena de Indias. The city felt gritty and warm, friendly and full of history. Hot garbage sat out along the sidewalks and stray dogs frequently passed by. Music was in the air. Along the streets, graffiti covered the walls. Most were beautiful images of women and children i vibrant colors.
As I reached the castle, loads of tourists were rushing into the gates. The heat was incredible; it must have been over 90 degrees. I climbed all the way to the top, exploring tunnels and secret rooms along the way.
Just about the only cold thing offered at the top was a lime juice that I gulped down (bring your own bottle of water). The view was definitely worth the climb and I thought about what it might have been like defending the city from invaders so long ago. The castle was built by the Spanish in the early 1500's to protect the coastal city along the Caribbean Sea.
Day 1: Afternoon | Explore the Walled City of Cartagena & Relax under the Caribbean Sunset
Within walking distance from the castle (15 minutes or so) is the Walled City of Cartagena or what locals call Old Town. I spent the rest of the day getting lost within the walled city, taking in it's tasty restaurants, souvenir shops and breathtaking architecture. The colors were mesmerizing, the energy contagious and the spirit of Cartagena was alive.
Being a student of design, I found myself enamored by all the colorful doors and metalwork. Huge old wooden doors with intricate details sat waiting at every entrance. I must have taken dozens of photos of doors. Hopefully one day, when I have a home with a door, my door will look like this one full of character and personality.
In the center of the Old City is Parque Bolivar. Tourists can buy local souvenirs or sit and watch live performers in the park. I sat down to rest my achy feet after taking 24,047 steps (the city is a maze so expect to get lost). Be sure to wear sunscreen in the walled city as there isn't much shade from the scorching sun.
Near the entrance of the walled city, there's a beautiful square to relax and watch the goings-on around you; mainly tourists wandering about and vendors selling fruit, hats and selfie sticks. I was able to catch a photo of the square later in the day when most visitors had left.
My hostel suggested I watch the sun set from a vantage point high up on the surrounding wall so I grabbed a quick bite in the plaza near Cafe del Mar. It was time to try Colombia's typical food (un plato de la comida tipica de Colombia): pescado, arroz, platacones y ensalada. Everything was incredible, especially the fish. Just watch out for the bones!
The cafe near the water looked busy and overpriced so I rested on the wall to watch the sun set. As I was resting, two fellow travelers approached - a Canadian and German who had met years earlier while backpacking. They had forgotten their phones so I took a few photos of them as we sat drinking a beer.
One of my favorite things while traveling is sharing stories with other wanderers. So many at home are afraid to venture off on their own but I enjoy the freedom and flexibility, plus you meet so many others who are on a similar journey. You'd be surprised what you're capable of when you have no one else to rely on.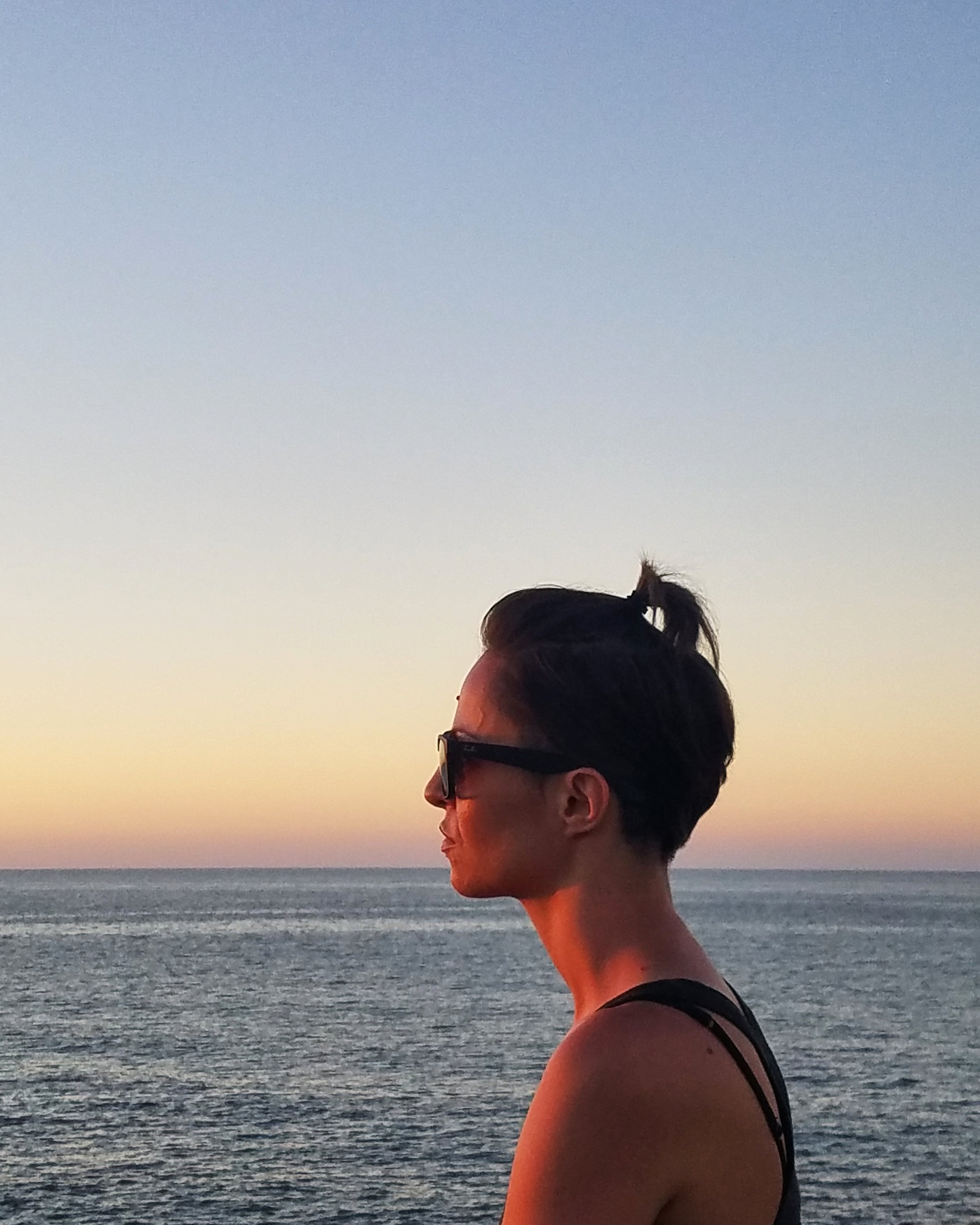 The sunset was gorgeous and the travelers I met told me that the thick wall surrounding the city was made of coral. You could see the tiny bits of sea life if you looked closely.
The three of us decided to take our beer to the streets and roamed around the city until dark. Live performers were dancing in Parque Bolivar and the guys introduced me to their favorite street food (some kind of potato pancake). What an amazing first day!
Day 2: Morning & Afternoon | Unwind at Isla del Encanto
The next morning, I woke fairly early to arrange a pick up to one of the islands, Isla del Encanto. My first choice, Isla del Sol, was booked due to my last minute scheduling. I had to pay a bit more for Isla del Encanto but it was worth every penny to enjoy an island not overrun by tourists. The cost was 161,000 Colombian pesos plus 15,000 in taxes, about US $60 total.
Many others I spoke with had arranged trips to Islas Rosarios and ended up at a beach fronts occupied by hotel guests. For me, secret spots are always far more interesting than those packed full of tourists. There is also a local beach that's pretty popular but I wanted something more remote.
My hostel offered a free breakfast each morning, as many do, and it was enough to start to the day. I only had a few minutes to grab a quick bite before the tour van arrived. Our group took an hour boat ride out to the island and even saw dolphins on the way.
The beaches of Isla del Encanto were nice, however, nothing compared to so many throughout Asia and the Caribbean. The island was small but clean and not too busy. The weather was hot, dry and calm. Our tour also included a buffet style lunch of fish and chicken with veggies.
As I relaxed, I drank fruit juice on the beach while sunbathing and people watching. What made the biggest impression on me was the music that filled the air. It brought a fun welcoming energy to the island. In the afternoon, we took the boat back to Cartagena.
Although I was exhausted after a long day in the sun I took the recommendation from my hostel to head back into Old Town and eat dinner at Restaurante la Mulata. I was so happy I made the trip. The food was INCREDIBLE.
Plantain chips and cheesy garlic dip were brought to my table almost immediately. For an appetizer I ordered Ceviche Mixto Antillano made of sea bass, squid, shrimp and octopus. And although I didn't need it, Camarones al Ajillo (shrimp with garlic) for the main course.
The following morning marked the first day of travel to a new location. I picked up a flight to Medellín for $40 through Viva Colombia airline. Safe travels!
El Arsenal Hostel Boutique left me with mixed emotions. The employees were great for the most part - super helpful and had some really nice recommendations. (Make sure you head over to Restaurante la Mulata in the Walled City and take a day trip to la Isla del Encanto.)
I did have to complain about the ladies restroom because they were pretty gross at times (even though they claimed someone just cleaned them). And I had a strange run-in at breakfast. I was running late for the island trip and was trying to get something - ANYTHING - to eat on the go. It caused a huge problem and was very frustrating.
The location was great for me, far enough away from the noisy busy areas but close enough to walk to all the sites. Breakfast and WiFi were good but no hot showers. I later heard that no hostels in Cartegena use hot showers.